Q Morning Show
Seth and Charlize... A New Item?
These two were seen dining together at LA's Matsuhisa Restaurant in Beverly Hills. Onlooker's said they were both giggling and looking happy. However, these two deny left and right that they are not an item. I call their bluff!
Is it me, or does Seth look really happy to be photographed with Charlize? On the contrary, Charlize looks a little guilty?? Just an observation... I'm sure it was just time they caught them...
Naughty Russel Brand!!
Last night on the Kardashian take over of the Chelsea Lately show, Russel Brand was the guest and of course it became inappropriate fast. He starts to tell them how na-na with a pregnant woman would be wonderful, and then goes even further to say a Kardashian threesome would be amazing.

CLICK HERE for the official video from last nights show.
Rihanna And Chris Brown Are OVER!
So it looks as though the dynamic duo are officially over. This weekend, Chris was seen buying drinks, and hanging over this mystery blonde at Hollywood Playhouse Nightclub in LA!
Something had to be up since Rihanna was instagramming and tweeting all weekend without any sign of Chris.
Britney Spears Gives Shocking Reaction.
When former mouseketeer Britney Spears was asked by photogs how she felt on the passing of Annette Funicello. She said the strangest thing!!!!
"That's great!"
Wait, wha???
Apparently she was caught off gaurd with the question and panicked. If you want to hear the response CLICK HERE!
A Flock Of Biebers!
The Biebs new do has his fans questioning his sexiness. Hot or Not? I call it the "Flock of Biebers" look...
CHRIS BROWN AND RIHANNA'S RELATIONSHIP GOT EVEN MORE COMPLICATED?!?
Chris Brown and Rihanna undeniably have a complicated relationship but he said that Rihanna is allowed to cheat him but only if it is with a girl. CLICK HERE for more scandalous info!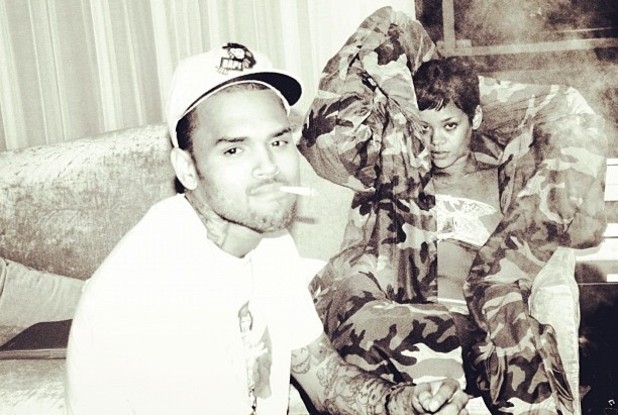 Photo courtesy of www.digitalspy.com
JOAN RIVERS GAVE AN OUTRAGEOUS INSULT!!!
Joan Rivers is never one not to take jabs at Late Night Hosts and yesterday she made the statement, "Jimmy fallon is the perfect replacement for Jay Leno...he is actually funny". BURRRNNNNNN! CLICK HERE for more sassy details!

Photo courtesy of www.gossipbeat.com
OSCAR WINNER IS PREGNANT WITH A BOY!!!
Halle Berry and Oliver Martinez are expecting a Baby Boy. CLICK HERE for more juicy details!

Photo courtesy of www.usweekly.com
DOES MILEY CYRUS HAVE A DRUG PROBLEM?!?
Miley Cyrus was caught smoking an illegal drug again. This time in plain view of the paparrazzi while just sitting on a balcony of a hotel. For more info and pics, CLICK HERE!!!

Photo courtesy of www.buzzfeed.com
BIEBER IN EVEN MORE DRAMA?!?
Last week we told you that Justin Bieber gave his tattoo artist a tattoo on his leg. Well now his friend Bang-Bang is looking at a $2,000 fine for illegallygetting inked by his friend. It turns out that it is requirement in New York for all tattoo artists to have a license. CLICK HERE to learn more!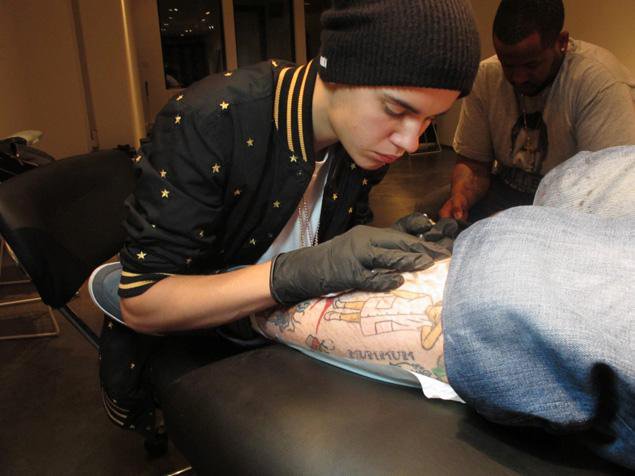 Photo courtesy of www.aceshowbiz.com
BEYONCE AND JAYZ INVOLVED IN A POLITICAL SCANDAL!!!
Jay-Z and Beyonce are under questioning after spending their fifth wedding anniversary in Cuba...where most Americans are forbidden. CLICK HERE for more controversial details!
Photo courtesy of www.washingtonpost.com