Q Morning Show
KELLY CLARKSON IS ENGAGED!
Kelly tweeted this pic on Sat! CLICK HERE for more details on her engagement!
ADELE IS BILLBOARD'S ARTIST OF THE YEAR!
For the 2nd year in a row Adele has won this title! CLICK HERE for the full list!
JESSICA SIMPSON WALKED DOWN THE AISLE!
Jessica Simpson walked down the aisle this past weekend...as a bridesmaid! CLICK HERE for more pictures and details!
THE BIEBSTER IS TAKING OVER TV!
Justin Bieber is working on a new sitcom about his life! CLICK HERE to find out about this potential new show!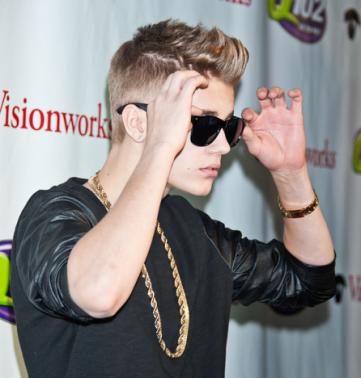 THE HOBBIT BROKE RECORDS!
If you did not see The Hobbit this past weekend you are probably the only person who did not! It broke records for the LARGEST December Box Office opening EVER! CLICK HERE to find out how much it earned and the records it broke!
TOM CRUISE IS A DICTATOR!
Rumor has it that Tom Cruise runs his home like a dictator and everyone in his staff is assigned a zone. They have to stay within that zone in his house and not be found anywhere else!
CLICK HERE to learn more about how he runs his house!
MADONNA GETS GRAPHIC ON STAGE!
Madonna showed off her new 25 year old dancer boyfriend on stage by playing tonsil hockey with him. Really over the top making out. Like, the kind that should only happen in the privacy of your own mouth. CLICK HERE to feel awkward.
DANIEL RADCLIFFE BROKE HIS SOBRIETY!
Daniel Radcliffe claims he has been sober since 2010 but he was spotted at a bar earlier this week getting rather messy. He was throwing back jagerbombs and even got in a fight with the DJ before being put into a cab by management.
CLICK HERE
for more info!
RENEE HAS A NEW MAN!
Renee Zelweger has a new man in her life. He is a musician for Eric Clapton and the two were seen smooching at the airport on Wednesday while they were waiting to go through security.
CLICK HERE for more details!
J LO AND AL ROKER BEING SUED!
Rumor on the street is that they did not do the proper research for their reality TV show Big Easy Justice and falsely accused a man of grand theft auto...on NATIONAL TV! That man is now taking them to court and suing them for defaming his reputation! CLICK HERE to learn more!
JOHN STEWART HATES HUGH GRANT!
John Stewart admitted that Hugh Grant is his LEAST favorite guest that he has EVER had on his show. Apparently back in 2009 Grant acted like a complete DIVA off air and now John Stewart will NEVER allow him back on the Daily Show again! CLICK HERE for more info!