Whoa!  Last night's episode was a complete emotional roller coaster.  After Chris left crying on the top of a mountain last week, I felt like the rest of the dudes would keep it together...WRONG!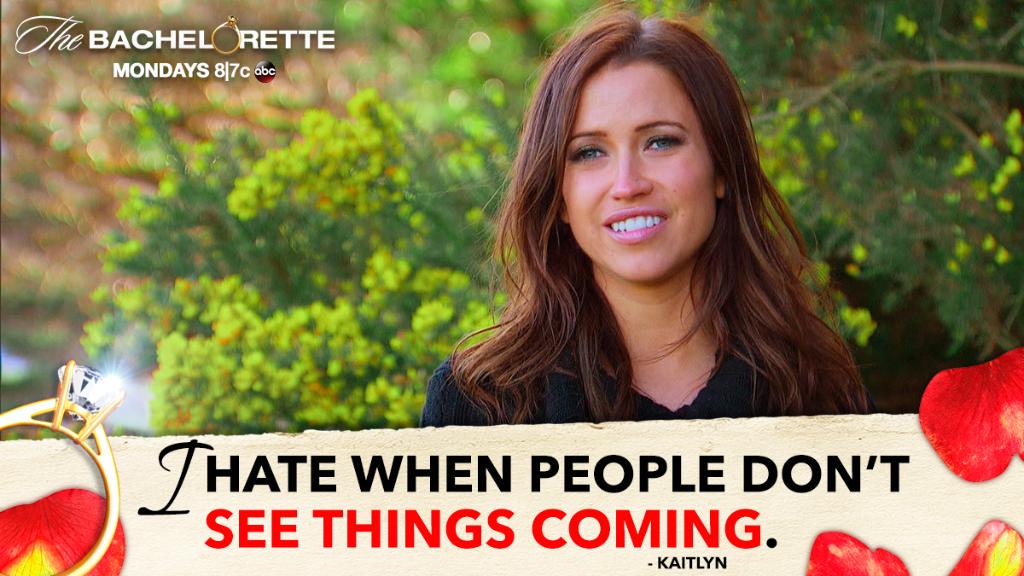 (Image courtesy of Twitter.com @Bachelorette)
The evening started off beautifully with Katelyn taking Ben H out on a date.  They talked, they stared into each other's eyes and they went for a boat ride.  Honestly, while Ben H is gorgeous...but he is about as interesting as peeling wallpaper to me.  I probably still could not pick him out of a lineup because he has been so boring this season.  No drama, no crying...none of the good stuff.  He seems like he would be a great husband if you want to eat the same thing every Tuesday and always do it the same way. ;)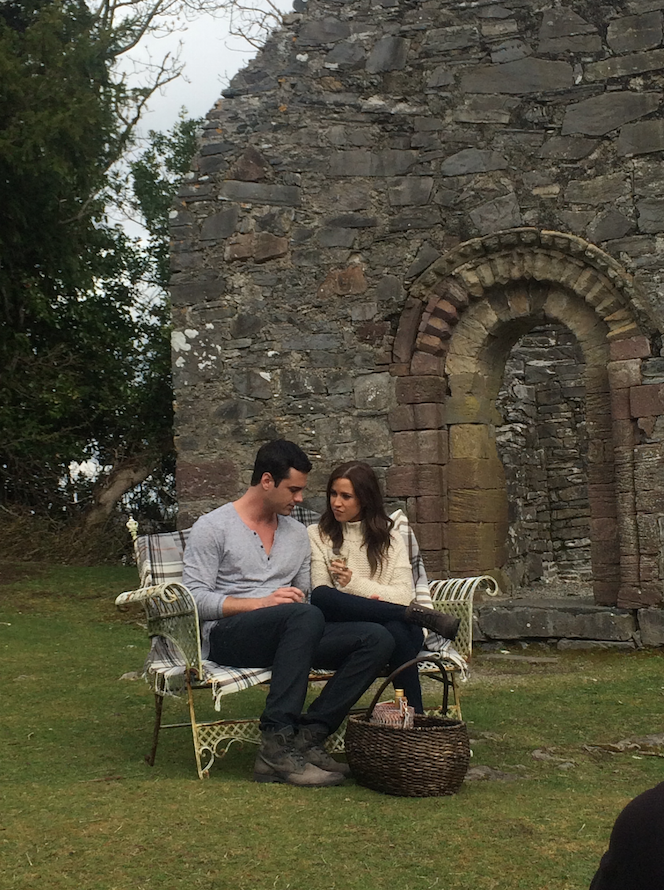 -
Enough of their boringness...lets dive into the juicy stuff...the date with Joe, Nick and Shawn.  Obvi Joe is still here only because Katelyn knew JJ needed to go last week and those two happened to be paired up on the same double date.  Before the dudes could relax, Katelyn lept straight into action and pulled Joe aside. Now I have had a soft spot for him all season because he is just a good old country boy from Kentucky...but apparently Katelyn doesn't get down with that.  Like a spider, she put him in as much misery as possible before going in for the kill.  Joe talked about how much he loved her and could spend the rest of his life kissing her and only her...
(Photo courtesy of Twitter.com @melgotserved)
After all that Katelyn is like, listen dude.  I don't like you like that...and you literally saw Joe's heart break into a million pieces on the tv...now as a good old country boy...he couldn't cry.  You know his dudes would rag him to much when he got home, so he turned to stone.  Rather than just let him leave Katelyn wanted to keep talking to him about what that would mean...and my boy Joe snapped...and left.  Bye Joe!  We will miss you...and will always remember you as our fave mariachi man!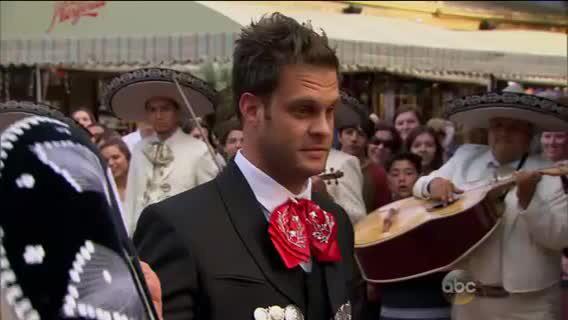 (Image courtesy of Twitter.com @BacheloretteGal)
Here, appreciate this pic of Katelyn looking off of a cliff to catch your breath for IT GETS REAL!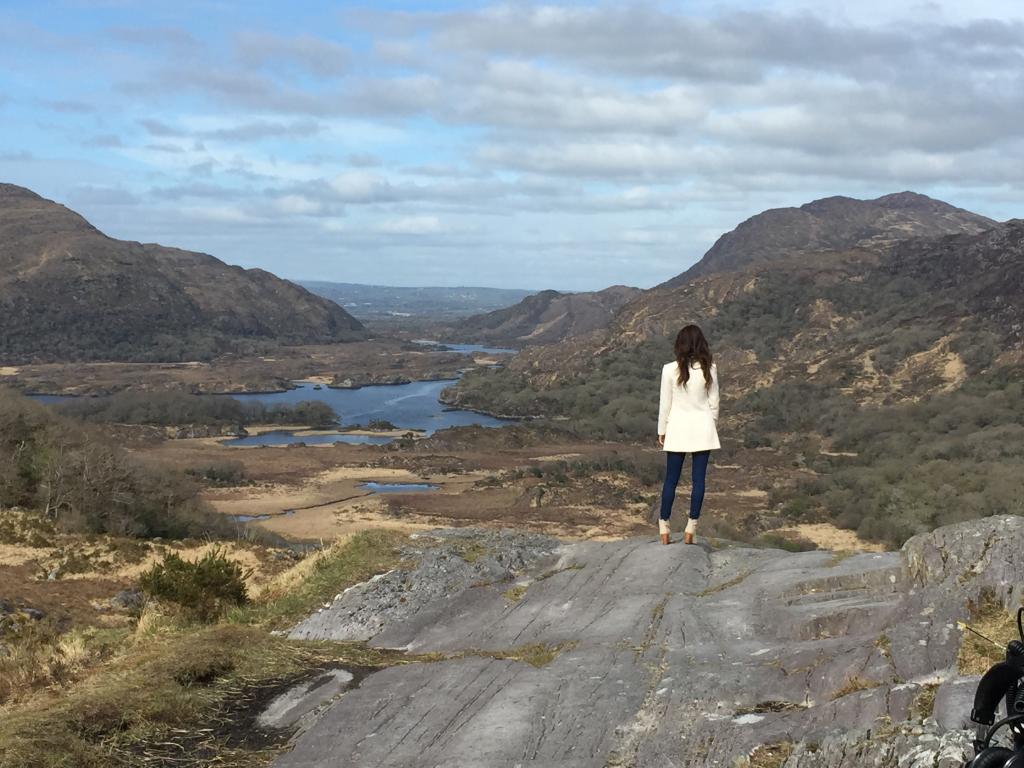 (Photo courtesy of Twitter.com @Bachelorette)
Katelyn tells Nick she enjoyed their time together and sent him back to the hotel.  Shawn starts doing the happy dance bc he thinks he is going to get some good quality time with the woman he loves...but then Katelyn started acting weird and telling him she had to confess something, and at this point...it was time to break out the popcorn...we knew what was coming
Katelyn told Shawn that she got down and dirty with Nick...you know the lowest of low scum buckets on this season.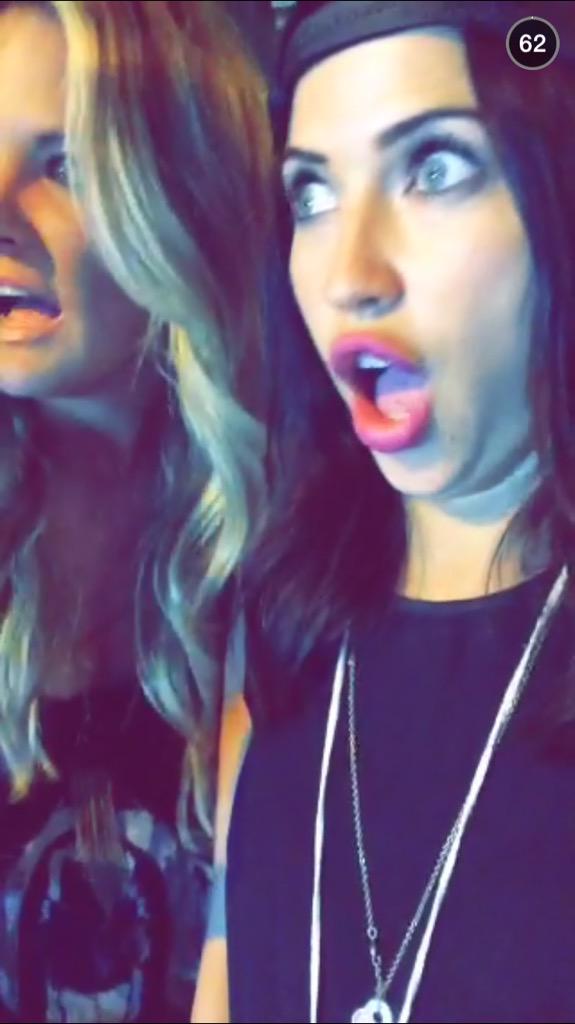 (Photo courtesy of Katelyn Bristowe's Snap Chat)
And my jaw scraped the floor.  I expected Shawn to flip out and beat down Nick or to cry like a little girl...instead...he sat there with a blank look on his face as cameras did close ups of him trying to process what Katelyn just said...you know, about getting freaky deaky with Nick.  Shawn did what any classy man would do, excused himself to pee..now producers are wrong for this...but they kept dude mic'ed as he tried to talk to himself while trying to tinkle and you know it hit dude hard.  Mad props to Shawn though, he washed the judgement off of his face that they girl he loved was bare butt with the only man he hates in the house and told Katelyn that they could work through it because he knows he wants to end this being with her.
(Photo courtesy of Twitter.com @melgotserved)
Now that Shawn knows that Katelyn enjoys Nick's presence in the buff...he went back to the hotel so that Katelyn could take Nick on their one on one...
(Photo courtesy of Twitter.com @melgotserved)
and how fitting...Katelyn met Nick in a jail.  While there Nick immediately starts tearing Shawn apart as having the wrong intentions...which is crazy because that is exactly what Shawn says about him...they must have compared notes.  Instead of defending the man that accepted her for sleeping around while they had a connection...Katelyn jumps on board and starts asking questions.  You know...like the WHACKASAURUS REX that she is! 
(Image courtesy of Twitter.com @Thegaurdian)
Then like a bad foreshadowing...the rain rolls in and Katelyn asks Nick to spend the night with him.  He already knows exactly what he is getting...so he jumps at the chance and Katelyn took him to a dirty prison mattress where Nick literally jumps straight into bed...turns out it is an awkward joke...but proof that Nick wants to get his groove thang on with Katelyn again...he is really as classy as this tattoo...
(Photo courtesy of Twitter.com @JillBidenVeep)
Katelyn laughs and says it is a joke...and Nick laughed too...bc...ya know...he wanted to get down and dirty with her again.  They went to a legit hotel where I am sure they touched ugly bits and then left us with uncomfortable moments of Katelyn putting her face against Nick's barechest like she is deep in thought...probably because Shawn is awesome and she did the nasty behind his back again.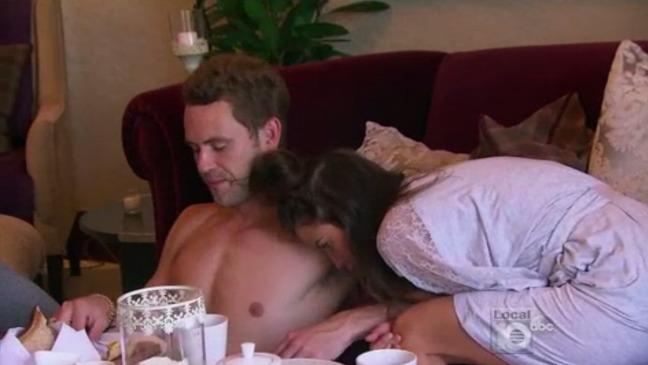 (Photo courtesy of Twitter.com @THR)
So we are finally going to get down and do the rose ceremony...which is weird bc she had a "Fantasy Suite" night with Nick...and only Nick.  Either a terrible editing mistake and Nick's night took place after the ceremony...or Katelyn just wanted to get an extra bang in with him bc euuuw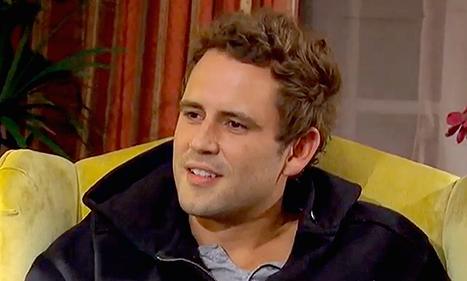 (Photo courtesy of Twitter.com @USWeekly)
Katelyn called Shawn's name first...but after he had time to process that Katelyn was "intimate" with another contestant, he had questions that needed answers and says he needs to talk to her before he said yes.  From there we got a truth bomb that Katelyn told Shawn early on off camera that he was the one and that she knew she would pick him...to which she says that wasn't fair to him or her because she needs to explore all her relationships bc when this is done she will never do that again.  AKA...make love with as many men as she can before she is tied down and it is "officially" considered cheating...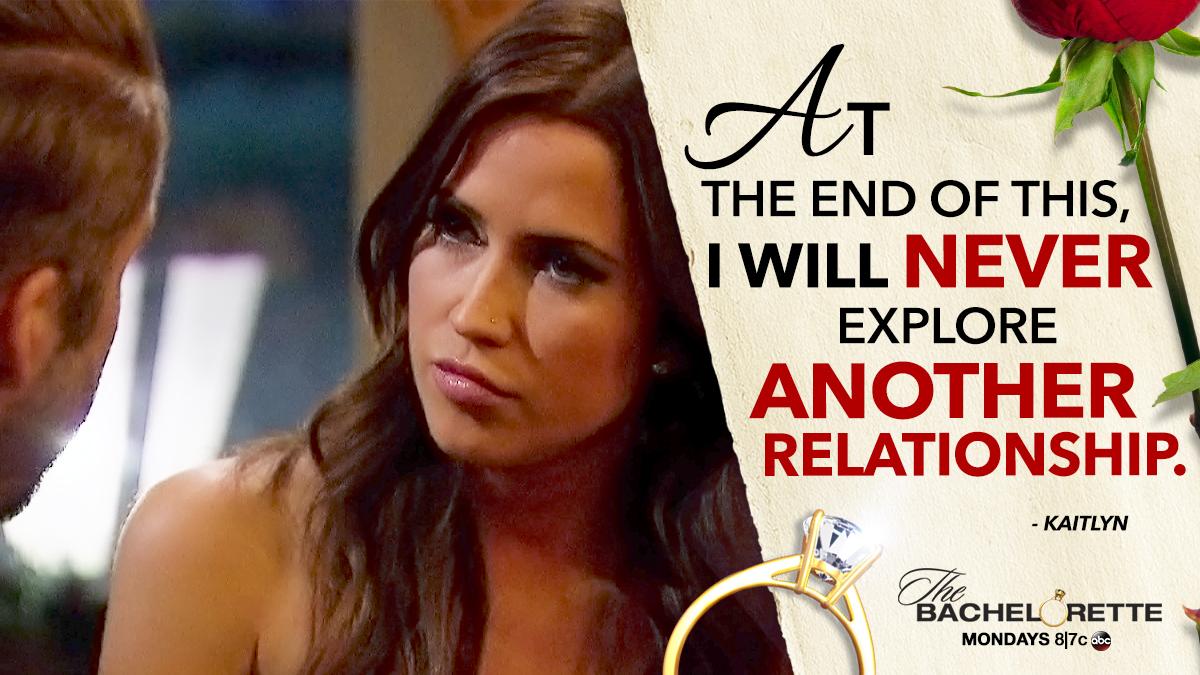 (Photo courtesy of Twitter.com @Bachelorette)
He tells her to trust the process and sends him on his way and he accepts the rose but the episode truly left all of us...including Katelyn thinking she might not find love out of this because she is not ready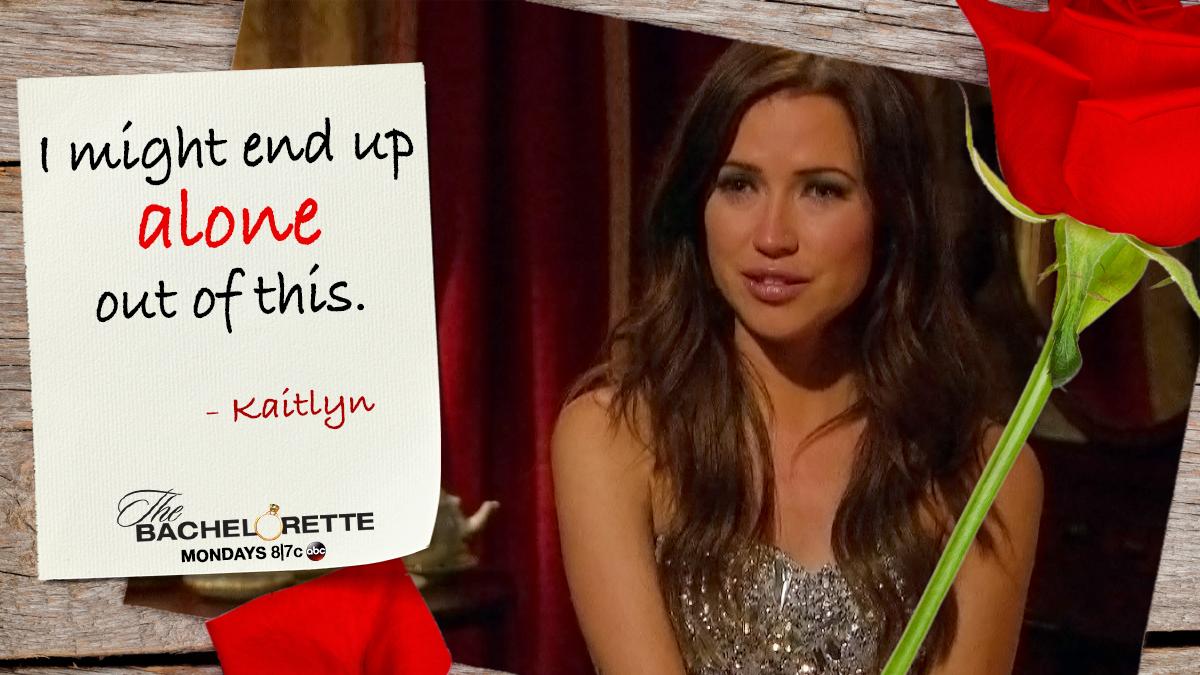 (Photo courtesy of Twitter.com @Bachelorette)